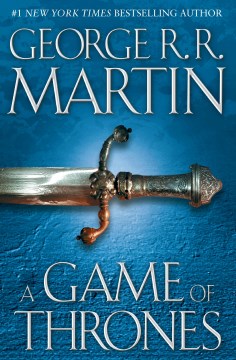 George R. R. Martin Read-Alikes
by Roberta Johnson; updated by Jessica Zellers
This article originally appeared in the NoveList database, and also in the October 2012 RA News Newsletter. Sign up for this and other newsletters.
---
Why readers love this author
Many readers felt that the hefty fantasy novels of the 80s and 90s were getting a bit stale. Lengthy quests, weeping princesses and warring races had become cliché. Then in 1996 Bantam published George R. R. Martin's A Game of Thrones. Martin had written other novels, as well as writing for film and television, but A Game of Thrones, the first in a projected series of seven books entitled A Song of Ice and Fire, was clearly something different – and with the HBO television adaptation, new legions of fans are discovering the series.
Martin's Seven Kingdoms resemble England during the Wars of the Roses, with the Stark and Lannister families standing in for the Yorks and Lancasters. The story of these two families and their struggle to control the Iron Throne dominates the foreground; in the background is a huge, ancient wall marking the northern border, beyond which a barbarian horde, the undead, and direwolves menace the south.
Each novel in Martin's saga averages nearly 800 pages, with appendices of character lists, maps and family lineages. He structures each chapter around a single character. Because his characterization is so robust, seeing Catelyn or Bran as the chapter heading instantly positions the reader in a particular place and state of mind. Don't get too attached to any character, though, for Martin does not scruple to kill them off. A wide breadth of age, race, gender and physical strength mark the cast, and they are also dispersed along an arc of decency and cruelty. These are not gentle times, and these are not stories of heroic pig keepers who become princes. The battles and language are graphic, and there are scenes of sexual violence. Incest is a pervasive theme, with most of the characters abhorring it, and a very few practicing it ardently.
"Martin has a great ear for dialogue, particularly the language of court..."
Martin has a great ear for dialogue, particularly the language of court, in which polite phrases conceal malice, but also in voicing children convincingly. He is never flowery, avoiding the "high" fantasy style of many writers. Martin also adds a touch of mystery to the story, maintaining tension by not immediately revealing everything to the reader.
Another difference from conventional sword and sorcery novels is the absence of much sorcery. There is little overt spellwork in Martin's series, and there are no magical objects: cups, rings, swords, etc. The world is Medieval in taste and feel, with traditionally garbed princesses, knights in armor and ancient castles. Dogs growl over bones in the halls, and trade ships sail for spices and silks. One innovative touch is the immensely long seasons, but this is used more for the foreboding of an approaching generation of winter, than to enhance the physical setting.
Political and personal conflicts drive the incredibly complex plot. There are many kings angling for the Iron Throne, many more driven by revenge for murdered family members, and a handful operating to protect their land and their kingdom. The country is threatened from the North by a vast group of barbarian clans, and loyalties change with the winds. With a dozen major characters and action covering a continent, there is plenty to keep the reader engrossed. Still, events do not feel rushed or breathless. Like much historical fiction, the setting is an era of change, and characters are continually challenged to face a new crisis.
If you're new to Martin, you may want to start with The Hedge Knight, a novella published in the Legends anthology (edited by Robert Silverberg) and also as an excellent graphic novel. This novella is a prequel to the Song of Ice and Fire series, and without plunging into the intricate plot of the long cycle, you can discover his gripping style and characters. Otherwise, plunge in with the first novel, A Game of Thrones.
Authors to Recommend
Robin Hobb's three series -- the Farseer Trilogy, the Liveship Traders and the Tawny Man -- all combine into a lengthy, convoluted, political, and dark saga. Hobb also keeps her magic off-stage, provides a wealth of very diverse characters, and places her stories firmly in a medieval landscape. Less graphic and brutal than Martin, she nonetheless explores the pain of her characters, whether orphaned boys or sadistic tutors. King Chivalry's bastard son Fitz will resonate with fans of Martin's character Jon Snow. Start with Assassin's Apprentice to experience this brilliant invention from the very beginning. Hobb's more recent series, the Rain Wilds chronicles, unfolds in the same world.
Robert Jordan's world and characters are more in the vein of Tolkien, with more explicit magic and a traditional quest plot, but the elements of politics, adventure, and battle make the complex and multi-layered Wheel of Time series a good choice for Martin's readers. The Eye of the World begins the series, but readers may want to start with New Spring, a "prequel" that is shorter and gives a good introduction to Jordan's world and style.
Barbara Hambly has written historical fiction as well as fantasy, and while her books are not as long or complex, the physical and psychological pain of the characters is reminiscent of Martin. Set in a chill land where dragons, gnomes (not the cheerful kind), and demons all clash, Hambly's Winterlands quartet, beginning with Dragonsbane, focuses on a young mage named Jenny. Her magic is powerful, but unreliable, and there is no great college of magic or wand waving to distract from the realism of the story. The harsh land and seductive lies of the demon world echo the setting and sexual content of A Song of Ice and Fire.
With two degrees in anthropology, Greg Keyes builds his imaginary worlds on vivid layers of myth and history. His books offer complex characters, political struggles, and tense adventures. In the Kingdoms of Thorn and Bone series Keyes uses a multiple-viewpoint narrative to describe a Medieval-like kingdom that is suddenly threatened by an ancient power and a murderous schemer for the throne. The first title is The Briar King.
R. Scott Bakker writes lengthy, complex fantasy novels with a gritty realism and a very light touch on the magic. Look for death, violence, war, and betrayal among the large casts of characters in his Medieval-esque series. Political and religious intrigues drive the story in his Prince of Nothing series, starting with The Darkness That Comes Before.
While clearly outside of the fantasy genre, a saga that matches A Song of Ice and Fire's tone, complexity and assassination rate is Robert Graves' I, Claudius and Claudius the God and his Wife Messalina. The lame, stuttering Claudius, with his kindly whore, will remind readers unswervingly of the King's Hand, dwarf Tyrion, who hides his honorable soul under an awkward, misshapen body. Incest, patricide, and poison add to the drama of Graves' famous novels, and the slightest hint of magic in Caligula's murder of his father strikes another parallel with Martin.