A Historical Feast: Food-Centered Historical Novels
by Bethany Latham
*This article originally appeared in the November/December 2013 issue of RA News. Subscribe to RA News and any of our other newsletters.*
---
One draw of well-written fiction is that it can be gloriously escapist, providing readers with the opportunity to travel to different worlds. In science fiction this can be literal -- whole other planets to explore. In historical fiction, it's the prospect of meeting the inhabitants of the past and seeing the environment in which they lived. Historical fiction authors use details of the clothes, the buildings, and the language to immerse readers in these temporally unfamiliar worlds, to allow readers to feel that they've travelled to the past. When I travel, one of the things I enjoy most is sampling the local cuisine, so it's not surprising that food is another period detail historical fiction authors employ to create a convincing sense of place for readers. For many, tasting food is an emotional as well as sensual exercise, adding tactility and three-dimensionality to a historical setting. In fact, descriptions of food can be so compelling that some historical fiction is entirely built around them. Some examples are below, but be warned: it's not wise to read any of them while dieting.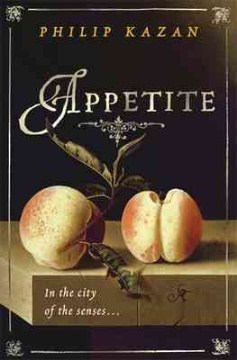 Appetite by Philip Kazan
ISBN: 9781409142799
Renaissance Florence offers as much in the way of sensuality as could be hoped, and Appetite, which has been described as "gastro-porn," focuses on a single aspect of the era: food. Nino Latini is the son of a butcher, but once his unique talent is discovered (he can taste each individual ingredient, even in the smallest quantities, in any dish) he becomes chef to some of the most famous of Renaissance personalities, from the de Medicis to the Borgias. This novel features decadent descriptions of food and feasting, enough to satisfy even the most gluttonous.
The Book of Unholy Mischief by Elle Newmark
ISBN: 9781416590545
This novel has drawn comparison with the books occupying the over laden Da Vinci Code bandwagon, but The Book of Unholy Mischief is much more than just a thrilling search for a controversial book. Savonarola's terror has recently ended in Renaissance Italy, and young orphan Luciano finds himself inexplicably apprenticed to the doge's chef. The chef's motives are as unknown as some of his secret ingredients, and intrigue and even murder abound in the palaces of Venice. Newmark, daughter of a chef, ensures that the novel is replete with drool-inducing descriptions of food, as well as the search for a magical book.
John Saturnall's Feast by Lawrence Norfolk
ISBN: 9780802120519
Set during England's Civil War, this is the tale of an orphan who comes to be employed as a kitchen boy at a great manor house. Young John Saturnall has an -- unerring palate, and it's soon recognized that he's an exceptional chef. So despite his lowly status, Saturnall is appointed as cook to Buckland Manor, and given a novel charge. Lady Lucretia, the heir to Buckland, will have none of the suitor her father has chosen for her, and goes on a hunger strike against the engagement. Saturnall is tasked with creating the most delectable dishes possible in order to entice Lucretia to eat. Filled with lavish descriptions of archaic food and written in sumptuous prose, Norfolk's literary novel is a feast for all the senses.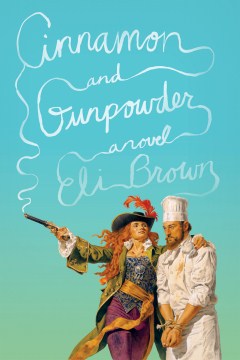 Cinnamon and Gunpowder by Eli Brown
ISBN: 9780374123666
Sailors have traditionally drawn the short stick when it comes to cuisine, surviving on weevil-ridden biscuits and salt pork…or worse. So one can hardly blame Regency-era pirate Mad Hannah Mabbot when she decides to break with common practice and spare one of her captives, chef Owen Wedgwood, on one condition: each Sunday he must prepare a delicious dinner for her, despite the hardships of finding decent ingredients on a pirate ship. Described by its blurbs as "an epicure's adventure simmered over a surprisingly touching love story," Cinnamon and Gunpowder is a genre-defying work of historical fiction.
White Truffles in Winter by N.M. Kelby
ISBN: 9780393079999
The real-life Auguste Escoffier is the subject of N.M. Kelby's White Truffles in Winter, which is couched as a memoir of Escoffier's life as France's preeminent chef. Born in 1846, Escoffier lived through momentous events, all viewed through the prism of food -- from serving as a cook in the Franco-Prussian War to chef for high society notables (e.g. Sarah Bernhardt) and even royalty (Queen Victoria) of fin de siècle Paris and London. At the end of his life, Escoffier's wife asks that he make a dish specifically for her, to create a palate of flavours that reflects their relationship. This is a lush tale of war, love, and food.
Like Water for Chocolate by Laura Esquivel
ISBN: 9780385420167
Tita de la Garza is a woman without options: the tradition in her Mexican family is that the youngest girl must remain single in order to care for her aging mother. When, in star-crossed fashion, Tita falls in love with Pedro and he requests her hand in marriage, her mother cruelly offers Tita's older sister instead. Knowing it's his only chance to live in the same household as Tita, Pedro accepts. Tita has only one outlet for her love, anger, and despair: her cooking. Through the adept use of magical realism, Tita's emotions are poured into each dish she makes, from her sister's wedding cake to quail cooked in petals from roses given by Pedro; those who eat Tita's dishes are consumed by the emotions with which she imbues the food. By turns funny, erotic, and tragic, this creative story reads like a magical telenovela.
The Lives of Notorious Cooks by Brendan Connell
ISBN: 9781907681202
In this inventive collection, Connell has created fictional biographies of dozens of chefs, complete with the fantastical dishes they prepare. This work is fascinating in its concept and its temporal scope: from ancient Egypt and Greece to medieval Japan and the battlefields of World War I, The Lives of Notorious Cooks explores individual chefs' obsessions with the preparation of food. The book's tone can best be described as darkly whimsical; these biographical tales of cookery often go awry, and the sanity of the chefs is sometimes in doubt.
While all of these offerings are works of fiction, for those interested in real historical cookery, there is also nonfiction available. Two encyclopedic works on food and cookery that anyone interested in the subject should consult are the Larousse Gastronomique, first published in 1938 and now revised (Clarkson Potter, 2009) and the Oxford Companion to Food, now in its second edition (University Press, 2006); both are exhaustive and informative, as well as fascinating. Kate Colquhoun's phenomenal Taste: The Story of Britain through Its Cooking takes the reader on a mouth-watering culinary tour of the British Isles, from the Iron Age onward, showcasing how certain dishes and even utensils came into being and use. For those interested in specific periods, there are works such as All the King's Cooks, which includes not only period recipes which can be made with contemporary ingredients and techniques, but describes every aspect of the Tudor kitchens that served Henry VIII at his massive Hampton Court palace. There are likewise nonfiction works available on particular ingredients, such as Mark Kurlansky's The Big Oyster, which follows the history of preparing and eating oysters from New York's harbor, from the first colonists being given these bivalves by friendly natives to the destruction of the industry by modern water pollution.
So pull your chair up to the table, place your napkin in your lap, and enjoy this delicious historical feast.
---
Bethany M. Latham, Associate Professor and Electronic Resources/Documents Librarian at Jacksonville State University in Jacksonville, Alabama, is Managing Editor of the Historical Novels Review.