January 15, 2016
Surprise, Delight, and Diversity: 2016 Youth Media Awards Reactions
Whether you were there in person or watching the results online, Monday's Youth Media Award announcements probably left you with some feelings about what won (and what didn't).
For my part, I watched the results at NoveList's annual YMA livestream gathering, where we shared predictions, reactions, and snacks. I got to watch a few of my predictions pan out and many of my wishes come true. What made me happiest, however, was seeing a roster of appealing, high quality award-winners featuring kids of diverse races, genders, and abilities. Keep reading for my reactions to some of the 2016 winners…
Caldecott Medal (for illustration)
Winner: Finding Winnie: The True Story of the World's Most Famous Bear, by Lindsay Mattick, illustrated by Sophie Blackall
I mean, just look at that bear! This win isn't too surprising: it's hard not to fall for a picture book about an adorable bear cub, especially if that bear is the namesake of one the most beloved characters in childrens' literature. Illustrator Sophie Blackall's careful, cozy style adds even more warmth to this already charming tale. Though Blackall drew fire in 2015 for her illustrations in a different, more controversial book, you can rest assured that the artwork in Finding Winnie is not just beautiful to look at, but also satisfying to share with kids.
Newbery Medal (for children's literature)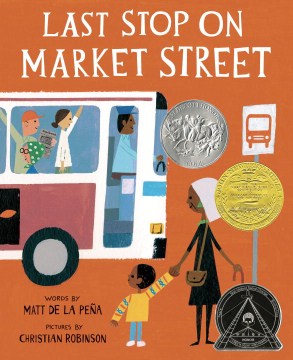 Winner: Last Stop on Market Street, by Matt de la Peña, illustrated by Christian Robinson
I'm not gonna lie: when this was announced, I threw up my hands and shouted "WHAAAAAAAAT!?" It has been decades since a picture book won the Newbery, an award typically reserved for Very Serious Novels. My love for Last Stop on Market Street is deep and well-documented, so I was beyond tickled that illustrator (and personal fave) Christian Robinson picked up both Caldecott and Coretta Scott King honors. And while I adore Matt de la Peña's honest, optimistic text about a city bus ride, I never expected it to win Newbery gold. Now that my surprise has faded, I'm brimming with delight that this wonderful book will reach an even wider audience.
Michael L. Printz Award (for young adult literature)
Winner: Bone Gap, Laura Ruby
This book delivers The Goods, and I miiiiight have done a two-handed fist pump when it was announced as the Printz winner. Yes, it's a weird one, and it's not going to be for every teen reader. But as more teens read Bone Gap, more teens will discover that magical realism doesn't have to be pretentious, and more teens will think deeply about invisible disabilities and the ways in which love and beauty intersect with power and control. Also, bees! Like I said: The Goods.
Check out the full list of 2016 Youth Media Award winners here.
It's not a NoveList viewing party without some sweet treats!
---
Rebecca Honeycutt is a Bibliograper at NoveList.
---