December 4, 2018
Gift books for kids and teens, 2018 edition
It's that time of year again, and people are looking for the perfect gift for their loved ones. Each December, the staff who work with children's books here at NoveList try to choose just one or two books that they believe could make a treasured addition to someone's bookshelf. Here are our picks out of the ones we read (or rediscovered) this year. They range from books for toddlers to teens and appeal to all kinds of readers. Your child's new favorite may be on this list. It's our gift to you.
For voraciously hungry kids:
We don't eat our classmates! (2018) by Ryan T. Higgins, Grades PreK - 2
Contributed by Suzanne Temple
Poor Penelope is the lone T-Rex in a class of humans. Children are delicious, so Penelope eats them (never fear, the teacher keeps things from getting out of hand). Penelope is befuddled to discover she then can't make friends. When the tables get turned on her by the classroom goldfish, Penelope learns how un-fun being chewed upon is. The illustrations are cute and cartoony, and students appear to come from a range of cultures, depicted through their physical features and dress. While this book has a message, it's delivered with humor.
For kids eager for a sensory feast: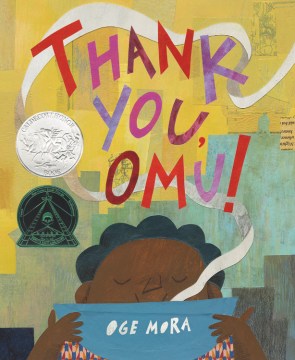 Thank You, Omu! (2018) by Oge Mora, Grades PreK - 2
Contributed by Autumn Winters
"What's that delicious smell?" asks the young boy who shows up at Omu's door, followed in turn by a cop, a hot dog man, a cabbie, and finally, the mayor. Generous Omu is happy to share, but she didn't plan on having quite so many guests for dinner. Now what? Oge Mora's author/illustrator debut is a vibrant salute to generosity and community. Omu's name and stew are specific to Nigerian culture, but her values are universal. Plus, Mora's cut-paper illustrations are downright mouthwatering.
For wallflowers looking for courage: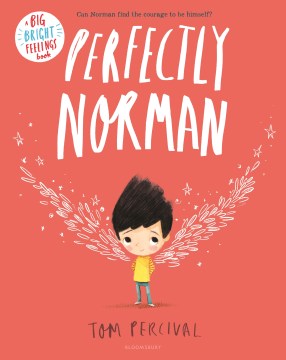 Perfectly Norman (2018) by Tom Percival, Grades PreK – 2
Contributed by Lisa Chandek-Stark
Norman enjoys being normal, but one day he sprouts wings. Flying is initially exciting and liberating, but Norman quickly feels fear that he won't be accepted for being different. Hiding his wings, even from his parents, takes a toll until Norman musters up the courage to reveal his full self. His new-found self-acceptance gives others the freedom to fly, as well. Written in a thoughtful manner, Perfectly Norman is a picture book for the sensitive child often afraid to let his/her differences shine.
For kids who express themselves proudly:
Julián is a Mermaid (2018), by Jessica Love, Grades PreK – 3
Contributed by Rebecca Honeycutt
From the moment Julián sees the people wearing sea-green mermaid costumes, he's captivated. "I am also a mermaid," he tells his abuela, imagining himself with long hair and fins in a brilliantly colored seascape. But what will Abuela think when Julián transforms himself with a mermaid costume of his own? (Spoiler alert: Abuela's awesome.) While Julián's story has vital appeal for kids exploring gender expression, it will also resonate with kids (and adults) who love mermaids or creative dress-up. Julián is a Mermaid is a joyful celebration of identity and imagination.
For fans of felines:
Cat Eyes (2018) by Laura Lee, Grades K – 2
Contributed by Brierley Ash
Miki only has eyes for cats. She sees them on the subway, in the newspaper, and even in her mashed potatoes! Pretty soon her imagination has her seeing cats everywhere-- even in her dreams. Can you imagine something so hard it will become real? Cat lovers will delight in scouring these pages brimming with fanciful felines. This picture book is full of silly, whimsical, comical cats!
For fans of silly but not gross humor: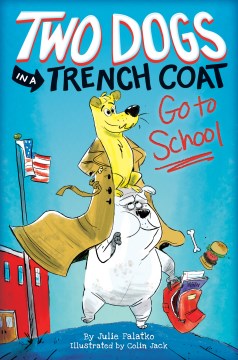 Two Dogs in a Trench Coat go to School (2018) by Julie Falatko, Grades 3-6
Contributed by Lindsey Dunn
Sassy and Waldo are the family dogs and good at their jobs. They are good at taking naps and finding bits of cheese behind the refrigerator. So, when the duo notice their boy Stewart comes home bored and smelling weird after going to a place called "school," they decide to scope out the place for themselves and plan a rescue effort. Getting inside is harder than they thought until they disguise themselves in the titular trench coat. Developing readers will enjoy tongue-in-cheek humor, plenty of cartoony pictures, and scattered bolded text.
For readers who love nuance with their fairy tales:
Begone the Raggedy Witches (2018) by Celine Kiernan, Grades 4 – 6
Contributed by Isabel Crevasse
When Mup's great-aunt dies, the raggedy witches come to kidnap her father and reclaim her mother as one of their own. To save her family, Mup must cross into the dangerous Glittering Lands, a once-magic world now ruled by a tyrant queen desperate to keep all that magic to herself. What begins as a traditional fairy tale adventure grows into a thoughtful and tender story about learning to love things --not in spite of but because of -- their complexity. This beautifully-written trilogy opener is perfect for fans of Frances Hardinge and Robert Beatty.
For kids who live with their heads in the clouds:
Elizabeth and Zenobia (2017) by Jessica Miller, Grades 4 - 6
Contributed by Suzanne Temple
Elizabeth, a cautious only child, moves with her father to the mansion in which he grew up. Her fearless constant companion Zenobia (only visible to Elizabeth) is drawn to all that's menacing: ghosts, séances, and poisonous plants. Together, the two girls learn of a family secret and resolve to discover it. This creepy book is full of suspense, and the lyrical text adds to the atmospheric historical setting (the scattered artwork throughout is great, too).
For fantasy-loving kids who've read everything:
Peasprout Chen: Future Legend of Skate and Sword (2018), by Henry Lien, Grades 5 - 8
Contributed by Rebecca Honeycutt
When Peasprout Chen and her brother move from rural Shin to the city of Pearl in order to study wu liu (a blend of figure skating and martial arts), ambitious Peasprout is determined to prove that she's the best. First, however, she'll have to survive the prejudice, politics, and fierce competition of her first year at Pearl Famous Academy of Skate and Sword. With its breathless action, satisfying character growth, and an intriguing, East Asian-inspired setting, this series opener is an ideal choice for voracious tween fantasy fans in search of something fresh.
---
Lindsey Dunn is a Readers' Advisory Librarian at NoveList. She's a kidlit expert and creates resources for all the librarians out there grappling with keeping up with what books kids are reading. Want to hear more from her? Sign up for Lindsey's Book Squad email updates.
---