Common Core: Authentic Reading, Writing, Listening & Speaking
Post by Julie Corsaro
Posted September 11, 2012 in Kids & Book News, NoveList Plus, Special Announcements
Mary Ann Cappiello is an Associate Professor in the Language and Literacy Division of the Graduate School of Education at Lesley University. Together with her "Uncommon Corps" colleagues Marc Aronson [see his Spotlight interview] and Myra Zarnowski, she is co-author of the series "On Common Core" in School Library Journal's Curriculum Connections. Dr. Cappiello blogs about children's and young adult literature at The Classroom Bookshelf.
JC: How did you become involved with the English Language Arts and Content Literacy Common Core Standards, especially in relation to nonfiction?
MC: Several paths converged. In 2006, I left the middle school classroom to teach fulltime at Lesley, where I had the chance to teach a course entitled "Exploring Nonfiction in the Elementary School Classroom." As a former language arts teacher educated at Teachers College, I was accustomed to using children's and young adult trade books to teach language arts and the content areas (science, social studies, etc.). But teaching this course took my knowledge of nonfiction to a whole new level.
During the following school year, I began serving on the Massachusetts Curriculum Frameworks Revision Committee where notions such as "learning to read and reading to learn" were feeling antiquated. Children can read to learn while they learn to read. We started talking about the Content Literacy Standards and Language Arts Standards as interconnected at the elementary level and running parallel to one another at the secondary level. We also debated the role of research in nonfiction in relation to other genres and traditional formats, as well as emerging ones, such as digital texts.
JC: Did the Massachusetts standards become part of the Common Core?
MC: During our work on the Massachusetts standards, people from the state were informed by the work of national groups, such as the National Governors Association Center for Best Practices, which sponsored the writing of the Common Core. In 2009, the Massachusetts Standards were published for public review but were then subsequently folded into the Common Core State Standards. What really resonated for me about this whole process was not only that Content Literacy Standards were included for science and social studies at the secondary level, and embedded within English Language Arts in the elementary school, there are strands for reading and writing informational texts. (I dislike the term "informational" adopted by the CCSS and use the broader, "nonfiction"). Seeing this focus and the new balance between fiction and nonfiction reading in elementary schools has been very exciting for me. But it also means a lot of professional development needs to take place if the standards are going to be achieved in developmentally appropriate ways.
JC: Why do you offer a nonfiction course?
MC: The course was actually started by a colleague, but I was curious to see if it was available in other institutions. In 2010, I worked with a graduate assistant to informally research undergraduate and graduate teaching licensure and reading programs around the country to see if other institutions offered a nonfiction class. Very few schools did; of those that did, most offered the class as an elective every few years. In fact, it seems that fewer and fewer education programs even offer a separate survey course in children's literature. I realize that I have an almost unique opportunity at Lesley to teach a required course in children's and young adult nonfiction, but with this privilege, comes the responsibility to share what my students and I learn.
JC: What do you focus on in the course?
MC: In the course, I emphasize the critical analysis and evaluation of nonfiction as well as its practical application within the classroom. Over the past six years, I've taught the class 20 times, and my students often start out by saying: "I didn't know nonfiction picture books existed;" "I never thought about using nonfiction to develop thinking skills;" "Nonfiction is boring;" "I would never use nonfiction to teach writing." Through exposure to books in the course, however, they begin to see the value and utility of nonfiction for prompting inquiry, captivating engagement, and teaching reading and writing as well as content. Watching this transformation, I know what is possible with the Common Core. But I worry because many teachers still don't know nonfiction.
"One way to create nationwide professional development: activate our librarian corps!"
JC: So, what do you see as the role of librarians in the Common Core?
MC: In our forthcoming book, Teaching with Text Sets (Shell Education, October, 2012), blog colleague Erika Thulin Dawes and I suggest that teachers get to know their school and public librarians because they are incredibly knowledgeable about children's and young adult literature. This is one way to create that nationwide professional development that we need: activate our librarian corps! Teachers also need to share their goals for the classroom regarding the Common Core because, if they do, librarians can also share the many roles one book can play to support the standards. For instance, a particular picture book might be a great read-aloud in fifth grade to introduce a theme or as a way to scaffold to a more difficult text, whereas, the very same nonfiction book in second grade might be a core component of small group study. Teachers and librarians also need to pilot units related to the informational text strands using books in the library or borrowed through interlibrary loan. They can use evidence from these units to show administrators and school boards the value of nonfiction trade books so they can be purchased for student use.
JC: What is a "text set?"
MC: What I mean by "text set" is that we learn certain things about a topic or theme by reading one book, but to learn more, we need to read several books or texts. In our information age, where we are inundated with texts, we also need to be selective about which books we choose to use in the classroom and how we use them. In Teaching with Text Sets, Erika and I present specific models for using sets or groups of related books for K-8. We also share a lot of ideas in The Classroom Bookshelf blog that we co-author with Grace Enriquez. Every Monday, we post a detailed review of one book, followed by a variety of teaching ideas called, "Teaching Invitations." These are followed by "Further Explorations," with digital and print resources that can be used to think more about the book, its theme and subjects. In a recent blog post about Claire Nivola's picture book biography, Life in the Ocean: The Story of Oceanographer Sylvia Earle (Farrar, 2012), we suggest that students compare it with other biographies of women conservationists, factual books about the ocean, and ocean poetry. We also provide links to a number of online resources.
JC: Do you have an example of several books on the same subject that make up a text set?
MC: There are three picture books about Pale Male, the red-tailed hawk that built a nest on the ledge of a swanky New York City apartment building. Students will have a very different understanding of this famous bird if they read only one of these books instead of all of them together. One reason for this kind of examination is to explore the author's purpose and perspective in writing nonfiction. Author's purpose is not an easy concept; but when students explore it within the context of a highly focused text set, it is easier to understand. In fact, some students get angry when certain information isn't available in all of the books, which is exactly the kind of excitement and engagement we want. For instance, Meghan McCarthy in City Hawk: The Story of Pale Male (Simon & Schuster, 2007) doesn't talk at all about how the apartment building owners destroy one of Pale Male's nests and the citizens of the city fight back. But Jeanette Winter does in The Tale of Pale Male: A True Story(Harcourt, 2007), and Janet Schulman provides even more details about Pale Male's struggle, including his various mates and related wildlife laws, in Pale Male: Citizen Hawk of New York City (Knopf, 2008).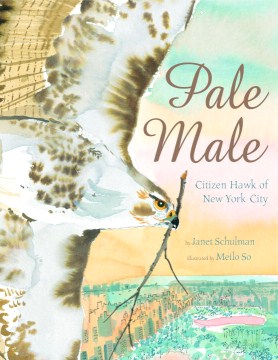 JC: Why is it so important to study the author's purpose in this way?
MC: Because it helps children with their own thinking and writing. I see a revival of writing with the Common Core because there are so many opportunities for it. I think writing is something that has been missing from classrooms over the last ten years because the focus has been on teaching reading in isolation. But we become better readers when we write and better writers when we read -- they are interconnected.
I think it's very hard to read one book and know what the author's purpose is because it's an abstract concept. But when children read several texts, they can start to tease out the differences. When students see that one author takes a chronological approach, another thematic and yet another comparative, they also start to understand that authors make decisions about writing structure. If students have rich nonfiction reading experiences and choices about their writing, they can do the same thing. For instance, a class may start the school year writing compare and contrast essays. With that structure under their belt, they may study other approaches. Later in the year, a student might say, "I'd rather write a narrative." Another might say, "For this topic, I think "Question and Answer" makes the most sense." This approach gives students ownership of their expression.
JC: In closing, what do you see as the main objective of the Common Core as it relates to literacy?
MC: That's the million-dollar question, isn't it? When I look at the standards, I see the opportunity for authentic reading, writing, listening and speaking experiences. For example, students might study the life cycle of frogs or a pond ecosystem. They will read and listen to a lot of nonfiction picture books on the topic. They will also study an actual pond, going out every day and taking photographs and making written notes about their observations. The class will break up into small groups and research different parts of the pond and/or the creatures that live in it. They will also write a group book about the pond, as well as scripts for a variety of public service announcements that will be played over the school PA system. In addition, they'll make recordings that are highlighted on the school website so that residents of the larger community can benefit from what they've learned. Some may write poetry. Others might create a mural. They might sponsor a pond clean-up day with their families. Not only do students learn science and various aspects of language arts by sharing what they have learned with an audience that isn't limited to their teachers or classmates, they begin to see that life inside and outside of school are interconnected.
---